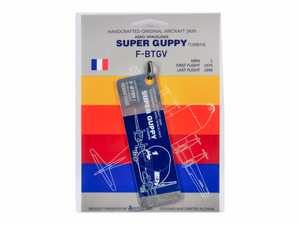 Aero Spacelines Super Guppy Turbine ex-F-BTGV #60
Regular price
Sale price
$55.95
---
Description
Handcrafted original aircraft skin from an Aero Spacelines Super Guppy Turbine. 
The Aero Spacelines Super Guppy Turbine (SGT) was designed and built to transport outsize cargo for NASA's Apollo programme. Based on the Boeing 377 Stratocruiser, a total of four Super Guppy Turbines were built by Aero Spacelines. Its distinctive appearance and unique capacity made it a special aircraft in aviation history.
The tag you're holding is from the first Super Guppy Turbine ever built. Powered by four Allison 501-D22C turboprops, she served for NASA as N211AS in the early 1970s and later joined Airbus Industrie as F-BTGV. Painted in the classic Airbus house colours, she flew countless numbers of extremely large parts and sections of Concordes and Airbuses to the final assembly factory in Toulouse.
Her 25 years of service made a major contribution to the growth of Airbus. On 1 July 1996, our Guppy took her last flight to Bruntingthorpe in the UK for preservation. During her years in the UK, a dedicated group of volunteers maintained her and even operated a repaint programme to make her shiny new again.
Sadly, however, the museum was closed and had to scrap this very special aircraft in late 2020. We felt it our responsibility to preserve some skins of the Super Guppy and give her a new life in our own way. Although 25 years have already passed since her retirement, part of her now lives on as Airlinertags!
More information on Airlinertags
Weight : around 0.03kg per tag
Size : (Hexagon) 52mm*60mm in square size
          (Rectangle) 95mm*30mm
Important to read before purchasing
Every tag has its unique serial number; each of them is unique and special. Tags are distributed randomly, and you will get a different serial number rather than the tag listed.
Purchasing multicolour tags will come with a unique pattern as every tag has a particular pattern, but the colour will be the same as what you bought. Purchasing multicoloured tags will be automatically agreed with the rule.
Aircraft skins are flown with the aircraft for years and parked in Boneyards before us handcrafting it to tag. Minor scratches and paint drop are normal, hexagons and multicolour rectangles tags are not recommended to use as a keychain, and all rectangles tags will come with a ring for daily use.
We provide a choice for using new cardboard or not. The option with a hole will be new cardboard. New cardboard will cancel plastic packs as before, relying on the hole and rings to connect them. And the option without a hole will remain as the old version cardboard with plastic packs packing both cardboard and tag inside.
Please feel free to contact us for more details and your questions :)

Have a new day and enjoy your Airlinertags!
Disclaimer
All company and products names, trademarks and registered trademarks are the property of their respective owners and are used for identification purposes only.
AIRLINERTAGS IS NOT AFFILIATED WITH, CONNECTED TO OR SPONSORED BY EITHER COMPANIES. 
We never intend to sell tags as authorized products, but only use names to record the history of our materials.