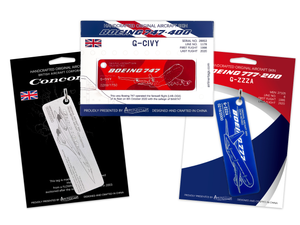 BAC Concorde, ex-G-CIVY and ex-G-ZZZA bundle
Regular price
$216.40
Sale price
$167.95
---
Note

Only purchase with this product for discounts.
Description
Handcrafted original aircraft skins from a lower rudder of BAC Concorde and ex-G-CIVY Boeing 747-400. 
The Concorde rudder is purchased from the auction winner in the Charity Sales by authorities back in 2003. Click here for more details.
Two types of back available, shown in pics 2, with the engraved back and honeycomb without engraving back. Default will be honeycomb without engraving back.
Take a note during checkout for requesting engraved back.
Thinner version tags are below 1.5mm; thicker version tags are around 2mm.
Rudders are swappable and get replaced multiple times during the service of Concorde, so it is beyond our capability to determine which Concorde(s) this rudder used to fly with.
More information on Airlinertags
Weight : around 0.03kg per tag
Size : (Hexagon) 52mm*60mm in square size
          (Rectangle) 95mm*30mm
Important to read before purchasing
Every tag has its unique serial number; each of them is unique and special. Tags are distributed randomly, and you will get a different serial number rather than the tag listed.
Purchasing multicolour tags will come with a unique pattern as every tag has a particular pattern, but the colour will be the same as what you bought. Purchasing multicoloured tags will be automatically agreed with the rule.
Aircraft skins are flown with the aircraft for years and parked in Boneyards before us handcrafting it to tag. Minor scratches and paint drop are normal, hexagons and multicolour rectangles tags are not recommended to use as a keychain, and all rectangles tags will come with a ring for daily use.
The whole package will include a cardboard alongside with the tag, relying on the hole and rings to connect them.
Please feel free to contact us for more details and your questions :)

Have a new day and enjoy your Airlinertags!
Disclaimer
All company and products names, trademarks and registered trademarks are the property of their respective owners and are used for identification purposes only.
AIRLINERTAGS IS NOT AFFILIATED WITH, CONNECTED TO OR SPONSORED BY EITHER COMPANIES. 
We never intend to sell tags as authorized products, but only use names to record the history of our materials.